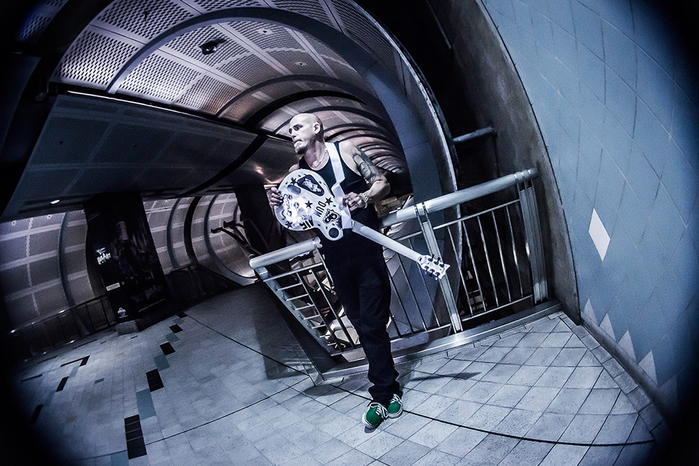 : Matt Zane
Scott Martin:  ак Dopesick образовалс€?
Adam Albright:  огда € был в тюрьме в Т98, Т97, € работал над Skinlab вещью, и нас подписали, и тогда пр€мо посреди всего этого, € попал в переделку и отправилс€ в камеру. ѕока € был там, мой сокамерник сидел на таблетках и был наркоманом. ќн всегда говорил подобные вещи, и он сказал УDopesickФ однажды, и € отреагировал как-то так: УHoly shit. Ёто крутое словечко. «вучит класно!Ф » € услышал как Steven Tyler сказал это однажды. я думал наподобие, УЁто крутое словечко!Ф Ќа мен€ нашло озарение тогда, и когда мен€ выпустили, € начал работать над вещами и € занималс€ Dopesick долгое врем€, лет 20 и понемногу все стало €снее ...
Scott Martin: ћожете вы описать процесс записи вашего дебютного EP , The Love and Terror Cult?
Adam Albright: Ќесомненно. я записывал в Van Nuys здесь, Pawn Shop Studios, с Patrick Burkholder, и у мен€ с первого разу все получилось Е я был счастлив. я достиг желаемого звучани€. я записывалс€ с Aaron Rossi. ќн играл с Ministry в свое врем€, и € и он работали вместе с помощью телефонной св€зи, и тогда он приехал в LA (Ћос-јнжелес) и мы просто закрылись в студии на две недели, работа€ упорно над всем и потом мы отправились пр€мо к Patrick и сделали все за несколько дней. " мен€ были все этои песни Е " мен€ было много музыки после этих зан€тий, и что-то из этого попадет на полноформатный альбом, который предполагаемо выйдет в окт€бре, но у мен€ есть кое-кака€ нова€ музыка. я добавл€ю к этому партии, но некоторые из этих песен сЕ Ќекоторые из песен что планируютс€ на полноформатном альбоме - это партии Aaron и материал .
Scott Martin: Aaron играл на альбоме?
Adam Albright: ƒа. Ќесомненно. Aaron сыграл все барабаны. ќн в Seattle. я и он могли переговариватьс€ по телефону и он мог оценить материал и сыграть что надо Е ќн так хорош в исполнении ударных. ќн играл разные биты на разные вещи, чтобы материал зазвучал правильно, везде где это требовалось. ќн по-насто€щему дельный ударник. ћногие барабанщики не заслуживают такой оценки, € думаю люди не думают, что пишут немного тупо. Aaron помог мне очень-очень, и пр€мо посреди всего этого у нас по€вилась небольша€ проблема, но дерьмо происходит. я записал все басовые партии. я записал все гитары, все клавиши и материал, и Aaron сделал все ударные. я счастлив всему этому, правда счастлив.
Scott Martin: "ак что получаетс€ - будут те же самые вещи на полноформате?
Adam Albright: Ќет. –еб€та, с которыми € работаю пр€мо сейчас собираютс€ быть группой, и то, что € пытаюсь делать пр€мо сейчас - это просто работать над полноформатом, дела€ весь этот материал. я пытаюсь работа€ над альбомом и выступать с концертами, тоже, но ты знаешь, делаю полноформат, стараюсь выпустить эту пластинку - и это важнее всего . Ќо увидим, что происходит. я до сих пор работаю с певцом, а вот и не расскажу кто певец, но когда альбом выйдет - каждый поймет, что происходит. ќ чем € - € пишу весь этот материал, так что это преимущественно €. ¬ смысле - € делаю все басовые партии, даже так, на всех демо бас буду играть €, так что, знаешь, все это лезет из моей головы.
Scott Martin: ћожешь рассказать о каких-то музыкальных вли€ни€х на теб€?
Adam Albright: ƒа, € увидел KISS в Т79, мой самый первый посещенный концерт. ћо€ мама вз€ла мен€ на тур Dynasty и с этого все началось.  ак Ace Frehley, € люблю Ace Frehley. "ы знаешь, есть миллионы гитаристов которые Е технически могут сн€ть все его риффы, но нет никого круче Ace Frehley. Ace Frehley - чувак! » Bad Brains во многом, Ћюблю Bad Brains, его энергию. ћне нравитс€ много различного материала. ћне нравитс€ Stevie Wonder. ћне нрав€тс€ The Cure. ћне нрав€тс€ King 810. я впитываю множество различного материала. ƒумаю каждый находитс€ под вли€нием многоразличного материала. Ћюблю Rolling Stones. я не собираюсь подстраиватьс€ Е «наешь, что € имею в виду? я не собираюсь подстроитьс€ под тональность — и играть т€жел€к, считаю это безмозглым. Ќет ругани на каждом шагу. Ќе пою о гребаных сучках в каждой песне. "ы понимаешь - ничего нет из подобного материала - просто хороша€ музыка, понимаешь?
я хочу попытатьс€ и выдать позитив во всем. ћне много надо работать над собой. Ќо делаю такую музыку - € работаю над собой и € постараюсь, знаешь, насколько возможно выдать позитив в этот мир. Ёто то, что € пытаюсь делать как можно лучше.
Scott Martin:  ак бы ты описал Dopesick музыкальное звучание?
Adam Albright: я привык говорить, Уќчень громко и хаотичноФ раньше, но теперь Е черт, € не знаю. ƒаже не знаю как описать это. √итар-драйвна€ музыка, не могу даже описать. ћузыка, котора€ никого не приведет к ошибке. 'от€ иногда приводит людей к ошибкам . "олько прочел эти утром, кто-то играл УFruitvaleФ на какой-то станции, что-то подобное. ќни выбрали именно УFruitvaleФ из песен. я просто благодарен им за это. ¬се больше людей добираютс€ до наших песен. я не собираюсь соревноватьс€ со Slayer или соревноватьс€ с Rage Against the Machine. я не пытаюсь соревноватьс€ с кем-либо. я просто делаю музыку котора€ мне нравитс€. » также, это трогает людей. » некоторых людей эта музыка трогает. я под кайфом и слушаю эту песню, и мне нравитс€, € слушаю ее 4 или 5 раз и это просто как € думаю как-то отличаетс€ каждый раз. »ногда € счастлив. »ногда € грущу. ≈сли € могу вызвать эмоцию музыкой - € думаю € занимаюсь делом, понимаешь?
Scott Martin: Yeah, because IТve been listening to the album quite a bit lately, and УHayes N WebsterФ sounds like itТs very Ministry-influenced.
Adam Albright: ThatТs cool. I love Ministry. I liked Ministry before Aaron was in Ministry, but actually Scott Sargeant, the guy who used to play in Skinlab, MOD, Killing Culture, all kind of shit, me and him were roommates for a while. We got a drum machine, and I didnТt know how to use it, and Scotty is a genius with all that stuff. One day, we just got stoned and he programmed a loop for me, and I had that loop forever. I just wanted to use it, so it fell into place on the EP. Yep. Scotty did that stuff.
Scott Martin: The bay area had a history of being the melting pot for thrash metal in the 80Тs.
Adam Albright: But when I was there we still had good shit. We had the Kabuki. We had Berkeley Square. We had something, Club Chaos. We had something in Alameda. But there was a lot of stuff I mean Machine Head was just kind of breaking in so they did Ten Ton Hammer video at Berkeley Square. I saw that and you know and that was still cool music going back then. Shit hell of stuff I just canТt remember everything right now. I miss that. I miss the camaraderie kind of, you know? ThereТs still some of those guys up there still doing it though. The Devil In California is a good band up there. Infex is good up there. Somebody else that I like, shit.
Scott Martin: What Bay area bands have been your local influences?
Adam Albright: Infex is kind of like thrashy and The Watchers, there we go goddamn it, I forgot. ThatТs the one. The Watchers are the shit. Jeremy, Cornbread and Tim; Tim is a killer singer, killer song-writer.
And the perfect sound for right now, whatТs going on. That Sabbath Highway song and videos songs they got, the new video one, Just A Needle or something like that or whatever. The soloТs ripped dude. It rips. Hopefully, he brings guitar players back to the world. Spiral Arms. WhatТs funny is that TimТs been in a bunch of bands and like each one was good. Like each one was good to its own like Systematic, you know? I think The Watchers is the best one just because I think itТs a killer group of guys. I think they all are perfect guys.
IТve known Jeremy since back in Breach and The Venting Machine. He was actually going to play drums in Dopesick for one segment. Yeah, JeremyТs pretty multi-talented musician. HeТs a really good guitar player and I feel The Watchers, The Devil In California, Infex and then the rap group from San Jose, Gorilla Voltage.
Scott Martin: Gorilla Voltage, thatТs interesting. I lived in San Jose and I never heard of them.
Adam Albright: TheyТre out of San Jose. I grew up with Mark. TheyТre really good at rap. TheyТre on tour right now with Twizted.
The Devil In California is different kind of rock, Infex is kind of like Thrash Metal. And then the rap. So, thereТs all my influences right there just in local influences, you know what I mean?
Scott Martin: I assume that the song УFruitvaleФ is about the BART stop where Oscar Grant was killed by the Oakland Police Department?
Adam Albright: Absolutely. Thanks for saying his name. I try to always say Oscar GrantСs name, so itТs not just the kid that got shot.
I saw the movie and it was sad. I get choked up just thinking about it because Е The movieТs the movie, but basically, the story is he just went out, got in some shit, and a cop pulled his gun thinking it was a taser and shot the kid. ThatТs not acceptable. He got two years in prison. He did less than a year in prison, and IТd like to give that song to Oscar GrantСs mom and just say, УHey. I wrote this after hearing about your son and seeing it,Ф but that was my stop when I was in Oakland.
Scott Martin: I was going through your songs. You really stay true to your Bay Area roots. I can tell by your songs. Also, УHayes N WebsterФ ЕIsnТt that a cross-streets in San Francisco?
Adam Albright: ThatТs where me and Scottie lived. That was our apartment. ThatТs why I named it that, because thatТs where he ran the drum machine. Six months, maybe, but weТd come home and thereТd be gunshots up and down the street, just crazy little spot, so yeah. That was crazy time for me and Scottie both probably.
Scott Martin: I was always wondering what the actual significance of the УHayes N WebsterФ is, besides it being a street in San Francisco. Can you tell me what is УRelease MeФ and УRide the NightФ about?
Adam Albright: I donТt know. УRide the NightФ is about having fun and being out in the sun and just enjoying life. To me, Jahred (Hed PE) wrote that, so you have to ask Jahred that one. To me, I wrote the hook part, the noisy part, and itТs just about being outside and having fun to me, and good energy. УRelease MeФ, Cristian Machado (Ill Nino) wrote that one, so youТd have to talk to him about that, but I donТt know Е I donТt know. I donТt think itТs a really happy one, but I donТt know. I like the song a lot though. It moves good.
Scott Martin: What I noticed about listening to your EP, itТs extremely diverse. You have a little of everything on there. You have the reggae, you have the metal with УRelease MeФ, and УHayes N WebsterФ, and then you have the really slowed down acoustic instrumentals like УFruitvaleФ, and I really like it. I think you did a great job. Only problem, I felt like I was being cheated. ItТs such a short album, and I felt like I wanted more. IТm like, УI want more.Ф
Adam Albright: ThatТs good though. ThatТs good. If it sucked, youТd be like, УFuck this,Ф and throw it away, so at least some people are like, УI want more,Ф so thatТs cool. Sometimes you want more and you canТt always get more, but the full-length will have everything on it. People will be a lot happier, probably, with the full-length, because thereТll be more metal on it. ThereТll be more songs, because I have more time to get more.
Scott Martin: So, you used to play with Sebastian Bach?
Adam Albright: Yep. I wrote Е УAngel DownФ was a Dopesick song, and I heard he was looking for a guitar player so I sent him the УAngel DownФ demo, and he liked it. I went out there and auditioned and played that and some other Skid Row songs and got that job and did that for a while. But I recorded with him on Angel Down and thatТs his title track to his second solo CD, I think? First or second CD Е solo CD.
Scott Martin: Did you play on tour with him?
Adam Albright: Yeah. We toured with Twisted Sister for a while, and then toured with Twisted Sister and Alice Cooper for a couple nights and it was cool. Fun.
Scott Martin: Oh, boy. That sounds like fun.
Adam Albright: Yeah, Twisted Sister was super cool.
Scott Martin: So, besides Skinlab and Sebastian Bach, who else have you been with?
Adam Albright: ThatТs pretty much it as far as main people, but IТve been doing Dopesick for a long time and then I did a little solo thing, Adam Albright and the Unstables, and you know, IТve always been doing something. You know, whether it was out playing, or I was just hanging around with somebody in a room, and actually a lot of the 9mm stuff is turning into Dopesick stuff. You know, I just kind of took a break from Dopesick for a while and moved to North Carolina and I started doing 9mm Disco and just kind of Е just trying to get my bearings back again.so were you with Skinlab in the beginning?
I was with Skinlab when we did the demo that got us signed, and I went to prison right when that happened. And then we got signed for the Bound, Gagged and Blindfolded record. And when I got out of prison in Т98, I toured with them for a little while and then quit again, or me and Steev got into it again. Stopped that but I was pretty much, I think, the original guitar player. There was a guy before me that did some stuff, but I think I was the original guy in that.
Scott Martin: Yeah, theyТve gone through quite a bit of lineup changes in the last several years.
Adam Albright: Oh, yeah. TheyТve gone through probably Е I think theyТve had more guitar players than anybody in the world, dude. I was probably the second or third guitar player, and then theyТve had probably 30 guitar players. Which is a joke to me. ThatТs disgusting, dude. ItТs stupid.
Scott Martin: I got just a couple off-the-wall questions. What would you say is the greatest song ever written? Not genre-specific, I mean just in general, the greatest overall song that was ever written in your opinion?
Adam Albright: Man. Shit, dude, thatТs a hard one. ThereТs Е I mean, thereТs so many songs that are killer like УStairway to HeavenФ and УHotel CaliforniaФ, or like Е those songs are amazing songs, you know what I mean? But the greatest song ever written.
Scott Martin: I know itТs a tough one. I mean, I came up with УBohemian Rhapsody.Ф
Adam Albright: УWordsФ by Missing Persons. How about that?
Scott Martin: Everyone will have a different answer on that question. There is no wrong or no right, just an opinion.
Adam Albright: ThatТs today.
Scott Martin: In your opinion, who is the greatest frontman in music?
Adam Albright: H.RЕ.. H.R. from Bad BrainsЕЕЕЕ.PERIOD! I mean, his energy Е like, if you see old videos of him Е I mean, the energy, dude. Like heТs just shaking, like just Е thatТs fucking so intense and so heavy duty, so Е you know, then thereТs different styles, like Rod Stewart is killer, Mick Jagger is killer, but for me, if I could have H.R. in my band, IТd take H.R. any day of the week.
http://anticdn1.antiheromagazine.com/wp-content/uploads/2017/05/dopesick1-copy.jpg
http://anticdn1.antiheromagazine.com/wp-content/up...17/05/dopesick1-copy.jpgPhoto:
Matt Zane
Scott Martin: I remember a couple years back, I went to a show called the California Roots Music Festival, itТs a 3-day Reggae Festival thatТs in Monterey and they had a Skunk Records Celebration/Jam with members of Sublime and other Skunk Records alumni. They brought H.R. up on stage to perform a couple songs with the band. I found it amazing that half of the crowd had no idea who H.R was. If it was not for H.R, we would not be here right now.
Adam Albright: HeТs completely different now. ThatТs because people donТt know where their music comes from, they listen to one or two songs and think they know everything, and itТs like, if you research Е radar detector Е if you research music, I mean, you know Е I donТt know. If you grew up with music and shit, you know whatТs right and whatТs wrong, and whatТs good and bad, I think, so. I mean, Bad Brains influenced so many people, you know? Every genre, you know? Metal, punk, reggae, whatever it is, that was just a very influential band, and I love that band. I love H.R. I love that band.
Scott Martin: Can you tell me, what is your opinion on music streaming sites such as Spotify, Google Play and Pandora? And of people downloading music for charge and for free. I know itТs stealing money from out of your pockets.
Adam Albright: Yeah, I donТt know much about it. IТm not real computer smart but if I happen to hear a band on YouTube, if I like them I go buy the CD, you know? I use that. I think itТs kind of cool. I go on Wikipedia. I check out whateverТs going on. And then I go buy it.
So, all the people that bitch and complain like their saying this or that, I donТt think they buy music, you know? I donТt think they go to shows. I donТt think they support music. I think they spend their money on other things. Which whatever, but donТt bitch if you donТt buy something youТre not part of it, you know what I mean? You can go spend ten dollars for a beer but you canТt spend $8 for a CD? And you are going to have the CD forever. YouТre going to piss the fucking beer out in a minute. So, you know I think that if people started buying music again or maybe if they can you know. Sometimes I buy a record with one song on it thatТs good and IТm pissed.
So, you know thatТs another reason why I want to try and have some diversity like records I bought when I was little Е Even Ozzy, I mean OzzyТs diverse. HeТs got fucking pianos and fucking all kind of shit. Listen to Alice Cooper records. Listen to an old Alice Cooper record. Like, what the hell is this? Well, itТs like diverse. Led Zeppelin, Bad Brains, just all that music is diverse. And itТs not just cookie-cutter, every song sounds the same as the other band. I think thatТs what happens.
Scott Martin: Tell me a little bit about the listening party you had for The Love and Terror Cult EP?
Adam Albright: It was cool. I did it back in Destin, Florida and thatТs where I went to high school and middle school, so it was cool. The radio station there was doing a lot for me and they were playing it a bunch and doing ads and stuff, so it was cool. ItТs a weird place there, itТs not like Е they donТt have a lot of music there, so you know, it was cool to go do it there. Plus, the place that we did it in was the first place that I had ever played live, like when I was 18 or 17 or some shit. That was the first place I played live music, so it was cool for me to go back and do it there. But it went pretty good. I sold some records, gave some records out.
Scott Martin: Do you have all the songs written for the full-length album?
Adam Albright: Pretty much. I mean, half of it is done. Half the stuff is done with Aaron. Going to go through some of those songs, but then I wrote a whole new bunch of shit, too, so itТs like thatТs going on the record. So, we are just trying to compile the best songs, get them tight, and then weТre going to do the vocals on those good.
There is more fucking heavy metal shit on there, thereТs, again, more reggae on it, thereТs some punk on there, but thereТs going to be some more electronic music. The EP is just a small version of what the full length is going to be, you know?
Scott Martin: So basically, you released the EP to kind of test the waters to see what the reaction would beЕ because I love the EP, itТs very diverse, it has a little of this, a little of that. Like you were saying the one person that reviewed it ripped it up because it was so different, but actually a lot of bands you listen to, itТs all the same style and has all the same sound, which can kind of be monotonous.
Adam Albright: BoringЕ Only one person ripped it up. This one lady ripped it up, but other than that IТve been getting pretty good reviews on it. ThatТs what I think is cool, though, is the diversity of it. People are bored with music and people talk so much shit about the music scene and stuff. ItТs like well, fucking just make some more Е better music. Try and make some diverse music. You know, every song on the record doesnТt sound the same and when you buy a CD that one song is the only one thatТs good, you know? IТd rather try and make fucking songs that are good songs and diverse songs and Е dude, IТm up and down. Like one day I am fucking happy, one day IТm really upset so that comes out in my music, you know?
I might write heavy shit, but it just depends on my mood, so whatever my mood is that is what IТm going to write, and I donТt care who likes it or who tries to pigeonhole it to whatever, IТm going to write music, man. IТm going to play music.
Scott Martin: I didnТt realize that Е I know you said you were working on Dopesick for a long time, but you had prior albums with Dopesick, right?
Adam Albright: ThereТs an EP out called Vendetta.
Scott Martin: And I definitely think that with anybody that listens to your music thatТs from the San Francisco Bay area could totally relate to your music. Because as I said like УFruitvaleФ is about Oakland, УAugust 1969Ф, УHayes N WebsterФ, it all has a very strong Bay Area appeal to it.
Adam Albright: I love the city until all that tech stuff moved in. Because the city is not the city anymore you know? I moved back to San Francisco and was just like heart-broken, you know? So, I went to L.A. I was like, IТm not staying in this shit. The Mission District is different. All the people are different. Everybody I know lives two hours out of the city. Nobody I know really except one dude was in the city and was just Е ItТs not the same vibe, you know? The people are different, just everything.