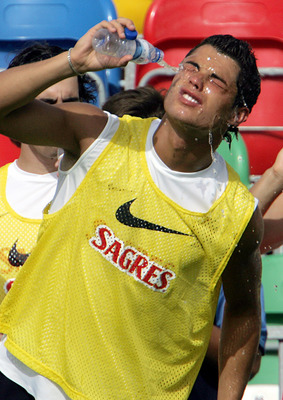 17 CRISTIANO RONALDO
Date of birth: 5 February 1985
Height: 184 cm
Weight: 75 kg
Position: Forward
Current Club: Manchester United (ENG)
Int'l Goals: 11 (as of 15-Jun-2006)
Int'l Caps: 33 (as of 15-Jun-2006)
First Int'l Cap: Portugal v. Kazakhstan (20-Aug-2003)
Profile
Cristiano Ronaldo Santos Aveiro is undoubtedly one of the hottest young talents in world football. With his surging runs and dazzling skills performed at blistering pace, comparisons with his Brazilian namesake have been inevitable. This Ronaldo is a star in his own right, however.
Born on the island of Madeira on 5 February 1985, he began his footballing formation with Nacional before a 2002 transfer to Lisbon giants Sporting, at the age of 17. The winger's rise to stardom since then has been nothing short of meteoric. During his first and only season with the Lions in 2002/03, he played in 25 games and scored three goals.
Arguably the key moment of Cristiano Ronaldo's career was a pre-season friendly in 2003 between Sporting and Manchester United. Scouts at the English club had been monitoring the young forward's progress for some time, but it was only after he starred in Sporting's 3-1 friendly win that United manager Sir Alex Ferguson decided to make his move and sign him.
Ferguson later revealed that in the dressing room after the game his players talked constantly about the young Ronaldo. Even on the plane journey back to Manchester, the United players pleaded with their boss to sign the young star. Other big teams such as Milan and Juventus made enquiries with the Lisbon club over a possible move, but Manchester United were quickest to act, and within a week had officially announced the signing of Portugal's latest teenage sensation.
Tricks of the trade
Undaunted by his star billing, Ronaldo showed off his full range of trickery on his Manchester United debut against Bolton Wanderers in August 2003, making an immediate impression on the Old Trafford fans. In his first campaign in England, he scored eight goals in 39 games, including the opener in United's FA Cup final win over Millwall. His string of fine displays culminated in him receiving the club's player of the year award.
Ronaldo has been equally impressive at international level, and is highly regarded by national team boss Luiz Felipe Scolari. Scolari's belief in the youngster was rewarded with Ronaldo's excellent performances in UEFA EURO 2004, despite the team's eventual defeat in the final against surprise champions Greece. During the tournament, Ronaldo became an established first-team regular as well as the star performer in a team that would go on to qualify for the 2006 FIFA World Cup™ with the minimum amount of fuss.
Portugal's manager has high hopes for his young charge. "Cristiano has everything needed to be one of the stars of the World Cup," said Scolari. "He's got so much quality about him, a good turn of pace and a decent shot among other things. If all goes well, he'll probably be one of the big names of the tournament. I gave him his chance in only our second match of the European Championship and he showed what a decisive player he can be. He's rewarded my faith in him and has really grown in stature," the coach said.
The Portuguese wing wizard's game goes from strength to strength with every passing season as he adapts to the English game and impresses Manchester United and Portugal fans alike. His repertoire of tricks and array of skills continue to leave opposition defenders mesmerised, and could prove to be a key factor in his country's bid for success in Germany this summer.