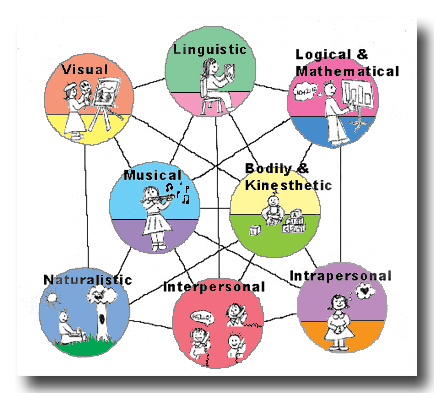 Visual/Spatial Intelligence to perceive the visual. These learners think in pictures and need to create images to retain information. They enjoy looking at maps, charts, tables, pictures, videos, and movies. puzzle building, reading, writing, understanding charts and graphs, sketching, designing practical objects, interpreting visual images.

Verbal/Linguistic Intelligence to use words and language. They think in words rather than pictures. listening, speaking, writing, story telling, explaining, teaching, using humor, understanding the syntax and meaning of words, remembering information, analyzing language usage.

Logical/Mathematical Intelligence to use reason, logic and numbers. These learners think in logical and numerical patterns making logical connections between things. These learners ask lots of questions. problem solving, classifying and categorizing information, performing complex mathematical calculations, working with geometric shapes.

Bodily/Kinesthetic Intelligence to control body movements. They have a good sense of balance and eye-hand co-ordination. (e.g. ball play). Through interacting with the space around them, they are able to remember and process information. dancing, physical co-ordination, sports, using body language, acting, miming, using their hands to create.

Musical/Rhythmic Intelligence to produce and appreciate music. These musically inclined learners think in sounds, rhythms and patterns. They immediately respond to music. Many of these learners are sensitive to environmental sounds (e.g. crickets, bells, dripping taps). singing, whistling, playing musical instruments, recognizing tonal patterns, composing music, remembering melodies, understanding the structure and rhythm of music.

Interpersonal Intelligence to relate and understand others. These learners try to see things from other people's point of view in order to understand how they think and feel. They are great organizers. seeing things from other perspectives, listening, understanding other people's moods and feelings, counseling, co-operating with groups, noticing people's moods, motivations and intentions, building trust, peaceful conflict resolution, establishing positive relations with other people.

Intrapersonal Intelligence to self-reflect. These learners try to understand their inner feelings, dreams, relationships with others, and strengths and weaknesses. Reflecting and analyzing themselves, awareness of their feelings, desires and dreams, reasoning with themselves, understanding their role in relationship to others.

When we know which channels we learn best of all through we can and WILL use it for the language learning purposes! How?! By emphasizing writing if you learn best from writing, listening if your listening channel is the one through which you can benefit as a learner. Does it make sense? :)
Some of my students hadn't understood grammar at all until I found out that they have a logical intelligence type and study grammar through tables, algorithms, etc...
английский, немецкий, французский Харьков