Вторник, 22 Марта 2011 г. 12:02 + в цитатник

Flocabulary is just for you !!!
Flocabulary is an educational project that uses hip hop music in its lessons. Flocabulary creates original hip-hop music and standard-based curricular materials to teach academic content. Flocabulary programs are proven to increase student motivation and achievement and are currently being used in over 10,000 schools nationwide.

Learn more at www.flocabulary.com
английский, немецкий, французский Харьков.
Среда, 16 Марта 2011 г. 19:32 + в цитатник

One and a half million people in 135 countries take Cambridge exams every year. There are five General English exams, sometimes called the "Cambridge Main Suite."

Level 1 Elementary
KET (Key English Test)
Level 2 Pre-Intermediate
PET (Preliminary English Test)
Level 3 Upper Intermediate
FCE (First Certificate in English)
Level 4 Lower Advanced
CAE (Certificate in Advanced English)
Level 5 Upper Advanced
CPE (Certificate of Proficiency in English)
*FCE, CAE and CPE have five grades, A-E, of which A-C are passes.

Cambridge also has an academic exam, the IELTS (International English Language Testing System). IELTS is recognized by universities and colleges, as well as employers, immigration authorities and professional bodies. The exam has listening, reading, writing and speaking components. For the reading and writing, students can choose between an academic and a general option. IELTS is scored on a scale of 1-9.

The six levels are A1 (Breakthrough), A2 (Waystage), B1 (Threshold), B2 (Vantage), C1 (Effective Operational Proficiency), and C2 (Mastery).

Exam Correlation at different levels:

A1: IELTS score 1-2.

A2: KET, TOEFL iBT score 32-42, IELTS score 3.

B1: PET, TOEFL iBT score 43-61, IELTS score 3.5-4.5.

B2: FCE, TOEFL iBT score 62-91, IELTS score 5-6.

C1: CAE, TOEFL iBT score 92-112, IELTS score 6.5-7.

C2: CPE, TOEFL iBT score 113-120, IELTS score 7.5-9.


TOEFL iBT (0-120)

IELTS (1-9)
английский, немецкий, французский Харьков.
Понедельник, 28 Февраля 2011 г. 14:35 + в цитатник

If you are an English learner - do you think more technology should be used in class to encourage your learning?
If you are a teacher of English - do you think your students will benefit more if you use technology more extensively?

английский, немецкий, французский Харьков.
Вторник, 01 Февраля 2011 г. 13:15 + в цитатник

Sometimes it seems to some learners the harder words they use the better...:)

Here is what might happen when we are carried away by the style and forget about the meaning: A correction printed in a Canadian newspaper: "The Ottawa citizen and Southern News wish to apologize for our apology to Mark Steyn. In correcting the incorrect statements about Mr. Steyn, published on October, 15 we incorrectly published the incorrect correction. We accept and regret that our original regrets were unacceptable, and we apologize to Mr. Steyn for any distress caused by our previous apology. " :))))))
английский, немецкий, французский Харьков.
Вторник, 11 Января 2011 г. 13:56 + в цитатник

Замечательный ресурс для тех, кто изучает английский недавно! Новости на простом английском!
www.simpleenglishnews.com
Качественный ресурс с пояснениями. Правда, обновляется не очень часто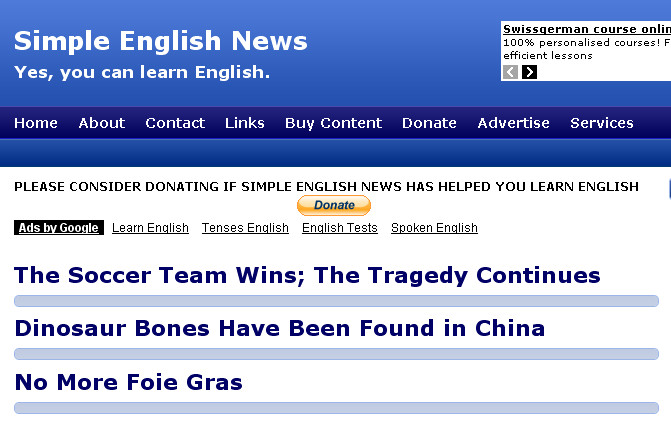 английский, немецкий, французский Харьков.
Четверг, 23 Декабря 2010 г. 19:51 + в цитатник

Age 13 - be employed part-time
Age 14 - allowed in bars but not to drink alcohol
Age 15 - legally a young person and not a 'child'
Age 16 - buy cigarettes drive a moped, join the army marry with parents' consent (not needed in Scotland), buy beer with a meal
Age 17 - drive a car or motorbike
Age 18 - vote in elections, get married without parents' consent, own property, get tattooed, drink in pubs . . .
английский, немецкий, французский Харьков.