Среда, 07 Марта 2007 г. 10:49 + в цитатник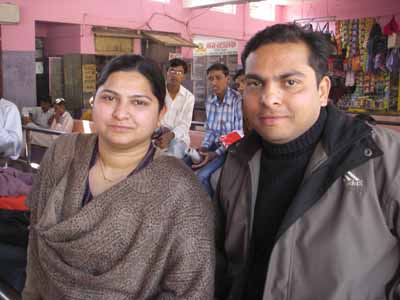 This day I found what is the sleeper class train in India. Too much exciting in this thing. But I was so scared of it first, because of Suraj's words. I was sitting at my place in the corner, listening to music, looking in the window, sending messages to Russia. I even didn't smile to anyone…
Except one lady who smiled at me sometimes. She had so nice and kind smile I liked it. There were some funny boys traveling also. They were joking to each other. I thought first that all these people including this lady were one big family. People there sometimes looked at me, but they didn't try to speak to me.
Situation changed in some hours when I felt more comfortable. The boy sitting next to me offered me his dinner. I refused, telling it's too spicy for me. But this was only the beginning. Result was people were giving me sweet things one after another. And they even gave me a blanket for night because I didn't have any. It was my first experience in Indian railway, in Russia trains things always go in another way. Russian and Indian trains differ so much!!
Next morning I was talking to them. Except the boys who didn't know English enough. I realized they are not one family. I was talking to Rachna and Vikram, they are brother and sister, who were going to Shirdi to Sai Baba with their mother. And they had the same end station with me.
One thing: they told me the same with Suraj – don't believe anyone and so on. "We are good people" – Rachna said – "But it is just your luck. People in India are very different". And I had an idea to go with them. Why? They were nice and one unknown place can be changed to another unknown place, why not? Besides I was a bit scared to go somewhere alone after all these words about different people of India. That's how I went to Shirdi. Vikram took care of me. With him I had my first experience with Indian buses. It's a nice place if you're traveling with someone. But I'll tell about it later.