Понедельник, 12 Марта 2007 г. 14:33 + в цитатник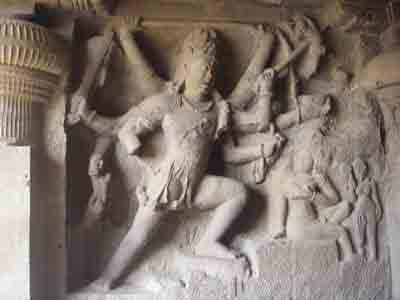 On my fifth day in India I mustered up my courage to go to unknown place by myself. I spent the whole day there and I could stay there even for longer, so nice place it was.
I met some more people there. The first was Sadeek. He is unique person, he knows 4 foreign languages but he can't write even in English! The truth is he learnt these languages speaking to tourists. He said me "Money is not everything. I don't expect to get money from you. I just like to meet new people and get new knowledge". He showed me some caves that were not in tourist map, he taught me some words in hindi, I liked this. But after 15-20 caves he injured his leg and we decided to meet again after I would see Buddhists caves.
I tried to go to last caves alone, but there wasn't such chance for me :) I met first 2 engineers from Karnataka who were very nice with me. And after I met Vijay. He is a Buddhist. This guy is from Ellora also same as Sadeek. He looked handsome, I think if he lived in Russia he would be popular among girls. And he is rather funny, I mean good sense of humor. With Vijay I realized why there were so many empty caves there. I also understood why this temple is in caves. Everything is because of acoustic. I thought before meditation was something silent. Vijay has a kind heart. We met some boys who had caught a little bat in cave. Vijay took it away from them. So a bat was sitting in a corner and even didn't try to fly. We left it there. After some time with Vijay I realized that there were only guys around us, who followed us at some distance. I don't know why. But there was already evening time and I went outside.
Vijay presented me beads made by his family. Sadeek also gave me a gift – a crystal he found there in mountains. He also helped me with catching transport to Aurangabad. That time I preferred not a bus but small car. It was a good experience.
Понедельник, 12 Марта 2007 г. 13:36 + в цитатник

Vikram showed me this place. We visited almost every place there except going inside the temples. It was Republic Day and there were so many people there. If I were alone I could miss a way in this crowd. Vikram is 29 (or 28?), he is rather successful man, he even has his own business. I also got a good joy watching him arguing about price in different places. We usually don't argue about price with sellers in Russia, so it was very new for me. He is very self-confident and reliable person, I like this qualities in men. In Shirdi I finally realized the price of money in India. For 10 rupia I could buy two fruits there and in other places to the south of expensive Delhi and Agra.
That days I realized I will be out of money soon. And I asked my parents to send me some more money (my trip was mostly sponsored by my boss, my job). In Shirdi there wasn't a good cheap place to stay for me. So I decided after sightseeing to go to Aurangabad (to go to Ellora caves later as planned). We decided to meet again with Vikram and Rachna, we had the same time train in Sunday.
So I went to Aurangabad. And my alone trip by bus wasn't something nice. It took only 3.5 hours, but there was two times somebody offered me narcotics, there were two different men, who tried to touch me. I even made a snap of one of them. I was so angry, I took my camera out of bag and made a picture. I said him 'I would print this photo and put it on the wall; then when I would be in a bad mood I would throw knives in this face'. And this guy – he didn't understand!! I even felt upset – it was so difficult for me to construct such sentence in English, and he didn't understand this language!! Everything was just a waste of time. Then there was another man, and situation was near the same. When he also got down and there appeared a woman sitting next to me I felt better. But it was too early to feel safe… I was so happy when my bus trip was over. And in Aurangabad after 4 hotels with "no rooms available" I found a good place for 180 rupia per day only. It was warm water and warm nights there, I was so happy :)
I refused the offer to go next day by tourist bus to see 6 places including Ellora in 8 hours. And it also was a good decision.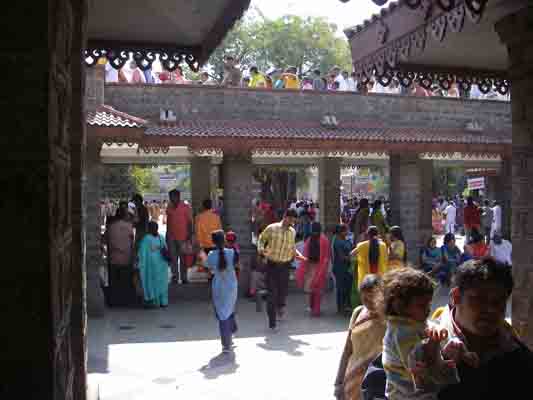 Среда, 07 Марта 2007 г. 10:49 + в цитатник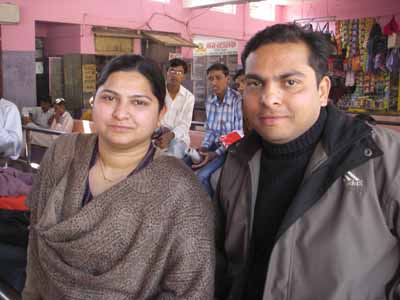 This day I found what is the sleeper class train in India. Too much exciting in this thing. But I was so scared of it first, because of Suraj's words. I was sitting at my place in the corner, listening to music, looking in the window, sending messages to Russia. I even didn't smile to anyone…
Except one lady who smiled at me sometimes. She had so nice and kind smile I liked it. There were some funny boys traveling also. They were joking to each other. I thought first that all these people including this lady were one big family. People there sometimes looked at me, but they didn't try to speak to me.
Situation changed in some hours when I felt more comfortable. The boy sitting next to me offered me his dinner. I refused, telling it's too spicy for me. But this was only the beginning. Result was people were giving me sweet things one after another. And they even gave me a blanket for night because I didn't have any. It was my first experience in Indian railway, in Russia trains things always go in another way. Russian and Indian trains differ so much!!
Next morning I was talking to them. Except the boys who didn't know English enough. I realized they are not one family. I was talking to Rachna and Vikram, they are brother and sister, who were going to Shirdi to Sai Baba with their mother. And they had the same end station with me.
One thing: they told me the same with Suraj – don't believe anyone and so on. "We are good people" – Rachna said – "But it is just your luck. People in India are very different". And I had an idea to go with them. Why? They were nice and one unknown place can be changed to another unknown place, why not? Besides I was a bit scared to go somewhere alone after all these words about different people of India. That's how I went to Shirdi. Vikram took care of me. With him I had my first experience with Indian buses. It's a nice place if you're traveling with someone. But I'll tell about it later.
Среда, 07 Марта 2007 г. 10:43 + в цитатник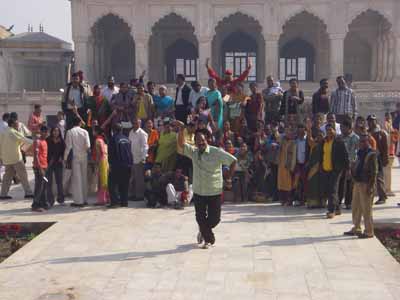 В колонках играет - Himesh Reshammiya - Aamin
The third day I was in Agra fort. That time I refused to have a guide. And I had a good time in this place. It's so peaceful there. I was walking there alone, making pictures. There was a fun situation. When I'd seen the big Indian tourist group making group snap (photo) there I made a snap of them too. Then they'd seen me… and my next two pictures were much more better! :) After some of them asked me to make a snap with me.
There also was a family I met later. They don't speak English, but we tried to speak with gestures. They even gave me a paper with something written I don't understand as a souvenir.
Suraj, that day we said goodbye to each other. Thank you for your help friend, it was really good time for me – my first days in India. You presented me your kindness, and I will remember you.
Before the train time we had a conversation with Suraj and his friend. They asked me not to talk to anybody I don't know, to be careful, not to believe people. How could I do this – you know such way is not for me!
But I liked a proverb from Suraj: "Five fingers are not the same".
Понедельник, 05 Марта 2007 г. 13:28 + в цитатник

The second day I went to Agra. But not by tourist bus as expected. They said "no tourist bus today. You'll go by the same taxi". So I went with Suraj together again.
In Agra I found an expensive restaurant, a cold hotel (especially in nighttime), a lot of muslims (who could be dangerous for traveling alone girl like me) and a funny Internet café with only one computer in it.
This day I found I didn't like guides at all, because there was a guide with me in Taj-Mahal. He knew exactly his purpose: to tell me everything he knew about it. But I wanted to feel, not to know facts. There was only one good thing about my guide: he made a picture of mine near Taj-Mahal. The truth is I didn't really want to see Taj (before going to India I decided to go there only because Taj-Mahal is a kind of symbol of India). After this place I had a headache… :(
So in the end of this day I felt empty and sad. Suraj went to his brother in Agra, I stayed in hotel. He said of course "If you want to go somewhere just call me. I will go with u. Don't go alone." I was really happy to hear this, that I was not alone in this place I didn't like. But I didn't call Suraj, because I didn't want go anywhere. I just felt sad, cold and lonely. Too cold. I put all my winter clothes on me but it was still cold. So what I did – I went out my cold room to the balcony of a hotel. And I was sitting there, it seemed to me in that place was a bit warmer. That time I really needed somebody close to talk with. And I called to my best friend in Russia. (That is how I spent almost all my money on the sim-card, that caused a lot of problems later). That conversation… I was complaining… can you imagine me, complaining? I was really close to cry that time. Cultural shock, maybe it was this? I felt better after this conversation, my dark sadness turned to light one, if you understand what I mean.
Then a guy near me appeared. He talked to me friendly, helped me (he even brought one more blanket to my room). That's how a bad thing became a good one. That's what I like in India.