SoftLabirint
Воскресенье, 17 Июня 2018 г. 21:16 (ссылка)
softlabirint.ru/music/jazz/...8-mp3.html


Музыка сборника "Swing Jazz Improvization" полагается в большей степени на ритмы и мелодические линии вместе с характерными для джаза импровизаций. Направление этого стиля полюбилось ценителями джаза всего мира за энергичное звучание и объединение в себе сразу нескольких жанров: фанка, поп-музыки и ритм-н-блюза.



Исполнитель: Various Artist

Название: Swing Jazz Improvization

Страна: World

Лейбл: VA-Album Rec.

Жанр музыки: Swing Jazz, Electro Jazz

Дата релиза: 2018

Количество композиций: 110

Формат | Качество: MP3 | 320 kbps

Продолжительность: 08 :37 :53

Размер: 1.21 GB (+3%)



TrackList:



001. Doobie - Swing Interlude

002. Phos Toni - Dirty Skirt

003. Arthur Pochon & Charles Chemery - Disco de Paris

004. Swingrowers - Via con me

005. DJ Tissue, Googirl - The Time (Tik - Tak) (Electro Swing Mix)

006. The Electric Swing Circus - Mamacita

007. Guido Spumante, Pepe Spumante - Get a Wiggle On

008. DJ Tissue feat. Googirl - The Time (Tik - Tak) (Electro Swing Mix)

009. Mondo Exotica - Tie a Yellow Ribbon

010. Moonlight Breakfast - Play

011. Tia Brazda - Hard Luck (DJ Margiotta remix)

012. Lyre Le Temps - Leave Me

013. The Gentlemen Callers of Los Angeles - Old Tyme Religion

014. Wolfgang Lohr & Alice Francis - Still Can Kiss...

015. Half Decent - Something Like This

016. Big Papa And The TCB - It's Up To You

017. Fallout Shelter - Renzo Dust Particles

018. Tomahawk - My Babe feat. Little Walter

019. Jamie Berry - The Performer

020. Waldeck - Shala-Lala-La

021. Flowryder - No Robots (Extended Version)

022. Bomba Titinka - Mambo italiano

023. Disco leasing - Balance (Instrumental)

024. Sound Nomaden - Swing It

025. Moogo - Marx & Engels

026. Caravan Palace - Wonderland

027. Massimo Vanoni - Set Me Free (B Side Mix)

028. Sugarpie And The Candymen - Navigalonda

029. The Swing Bot - Got That Swing

030. Big Bad Voodoo Daddy - Choo Choo Ch'boogie

031. The Jive Aces - It's Been A Long, Long Time

032. Julie Feder - Funky (Falke & Vogelbein Remix)

033. Earl - Since You Kissed Me

034. Dario Piana - Exotic Lines

035. Frizzo - Betty Swing

036. JFTH - Sunny Days

037. Waldeck - Senorita Rodeo

038. Tape Five - At Roadhouse Eleven (Interlude)

039. Dominique Lucena - Cocktail d'amour

040. Showbiz Kitty - Hang Boy

041. Class 76 - Hey Boy

042. DJ Dan - Make Ya Freak

043. Extra Medium - Mental Note

044. Piero Forte & Roby Montano - People Have No Time (Extended Mix)

045. Mano Meter - Karussell (Das Fachpersonal's Achterbahn Remix)

046. Sugarpie And The Candymen - Can't Get You Out Off My Head

047. DJ Dabelyu - Celebrate

048. Jazzotron - Let's Go (Feat Sofija Knezevic)

049. Andy Pitch - O.m.g. (Original mix)

050. Jazzotron & Manivi - Ain't No Man

051. OldSchoolBasterds - Come Back to Me (Radio-Edit)

052. Revel Harry, Joe Venuti, Joe Martin - Doin' The Uptown Lowdown

053. Jewdyssee - Cabaret

054. ReeKee - Parabolic

055. Hillberg, D-Tex - Pavel Interstellar

056. Nic & Peter - The Drums (Sp1der Remix)

057. Landis & Luciana - Nang Nang (Extended Mix)

058. Daniele Baldelli - Montego Bay

059. Sean Bradford - Playground

060. The Puppini Sisters - Hit the Road Jack

061. The Swing Bot - Got That Swing

062. Leotone - 1820 (Jazz Maestro Style)

063. Zouzoulectric - Shim Sham

064. Elysia & The Two Hats - That Man (Bmvt Remix)

065. Good Co - Tumbling Down

066. Nikola Vujicic - SuperSwing

067. Ziggy Phunk - Baseline Nation

068. The Platin Sound - Hit the Beethoven!

069. in the Ha - Bootlegger Blues

070. Funkatron - Cosmic Baby

071. Swingrowers - Midnight

072. Alm - Just Do It... Every Night

073. Bahia de Roses - Never Forget

074. DJ Louie Prima & Wolfgang Lohr - Digga Dooh

075. The Puppini Sisters - Is This the High Life?

076. Vladimir Sterzer - The Idiot from Around the Corner

077. Moonlight Breakfast - Hello

078. Nikola Vujicic - My Mind

079. Showbiz Kitty - Hang Boy

080. Cab Canavaral - Ich bring dich um die Ecke

081. Julie Feder - Funky (Falke & Vogelbein Remix)

082. Louie Austen - Hoping (Radio Mix)

083. Phos Toni & Kalletti Klub - Antons Aktion Swing

084. Hiroshima - Shine

085. Louie Austen - Shake Your Bones

086. Sound Nomaden - Locomotive Swing

087. Subjazz - Deeper Inside

088. Schinowatz Bobofkof - The Gentle Walk

089. 5 In Love - Sing Sing Sing

090. Kitten and The Hip - Dough

091. Pauss - Tune 1

092. Indy Lopez - Dom Dom Dom

093. Good Co - Zebra Donkey (Bart & Baker Rework)

094. KimSka - Swing If You Can

095. Real Cosmic Dogs - Let's Play

096. 5 In Love - Sing Sing Sing

097. 5 In Love - Swing What You Got

098. Flowryder - No Robots (Extended Version)

099. Wolfgang Lohr - Top Bop

100. Essenz - Fiire

101. Bomba Titinka - Time

102. Frank Kramer - Space Drop

103. Kalletti Klub - Swing ohne Geld

104. Tijo - Balkan Banger

105. Phos Toni - Love Me or Leave Me

106. Rolectro - Give Me Plenty

107. Marc Spieler - Confetti

108. Dernier Cri - Collage (Manhattan Jam)

109. Sound Nomaden - Trompetenkuss

110. Mano Meter - Karussell



DOWNLOAD LINKS: Swing Jazz Improvization (2018) Mp3



Download | TurboBit.net

http://turbobit.net/mazaa9nalcjt/Swing_Jazz_Improvization_2018.rar.html



Download | HitFile.net

http://www.hitfile.net/s7XGfP8/Swing_Jazz_Improvization_2018.rar.html



Download | Файлообменник.рф

http://файлообменник.рф/ay7dzlcwdsx0/Swing_Jazz_Improvization_2018.rar.html



Download | UniBytes.com

http://www.unibytes.com/Q7fyO8hK37wLqw-Us4P3UgBB/S...zz-Improvization-2018.rar.html

rss_rss_boingboing
Среда, 13 Июня 2018 г. 22:05 (ссылка)

MIT researchers designed and 3D-printed an array of soft, mechanical critters that are controlled by waving a magnet over them. The shapeshifters that fold up, crawl, grab things, and snap together into intricate formations may someday lead to new kinds of biomedical devices. For example, one of the devices "can even be directed to wrap itself around a small pill and carry it across a table." From MIT News:




"We think in biomedicine this technique will find promising applications," says (MIT mechanical engineer Xuanhe Zhao.) "For example, we could put a structure around a blood vessel to control the pumping of blood, or use a magnet to guide a device through the GI tract to take images, extract tissue samples, clear a blockage, or deliver certain drugs to a specific location. You can design, simulate, and then just print to achieve various functions."



In addition to a rippling ring, a self-squeezing tube, and a spider-like grabber, the team printed other complex structures, such as a set of "auxetic" structures that rapidly shrink or expand along two directions. Zhao and his colleagues also printed a ring embedded with electrical circuits and red and green LED lights. Depending on the orientation of an external magnetic field, the ring deforms to light up either red or green, in a programmed manner.
http://feeds.boingboing.net/~r/boingboing/iBag/~3/hRjozbUsGUg/these-3d-printed-shapeshifting.html

rss_rss_boingboing
Пятница, 01 Июня 2018 г. 20:09 (ссылка)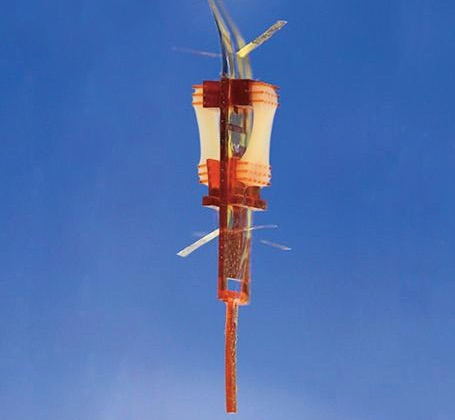 This "biohybrid" robotic finger melds a robotic skeleton with living rat muscle. The device is inside a container of water to keep the muscles from withering. The research is on the cover of this week's issue of the journal Science Robotics. Video below. From National Geographic:



"If we can combine more of these muscles into a single device, we should be able to reproduce the complex muscular interplay that allows hands, arms, and other parts of the body to function," says study author Shoji Takeuchi, a mechanical engineer at the University of Tokyo. "Although this is just a preliminary result, our approach might be a great step toward the construction of a more complex biohybrid system."



The research group began looking at living muscle tissue because plastic and metal provided a limited range of movement and flexibility. To grow their robot's muscles, they layered hydrogel sheets filled with myoblasts—rat muscle cells—on a robotic skeleton. The grown muscle is then stimulated with an electric current that forces it to contract.

"Biohybrid robot powered by an antagonistic pair of skeletal muscle tissues" (Science Robotics)

Japanese engineers integrate living muscles into robots.
The robots can mimic actions of human finger https://t.co/r5CeluR0Ss
(Video courtesy of 2018 Shoji Takeuchi, Institute of Industrial Science, the University of Tokyo) pic.twitter.com/gmCizoYwFh

— China Xinhua News (@XHNews) May 30, 2018
http://feeds.boingboing.net/~r/boingboing/iBag/~3/ffyZ6L-9I6s/robot-that-uses-living-muscle.html

rss_rss_boingboing
Вторник, 29 Мая 2018 г. 22:23 (ссылка)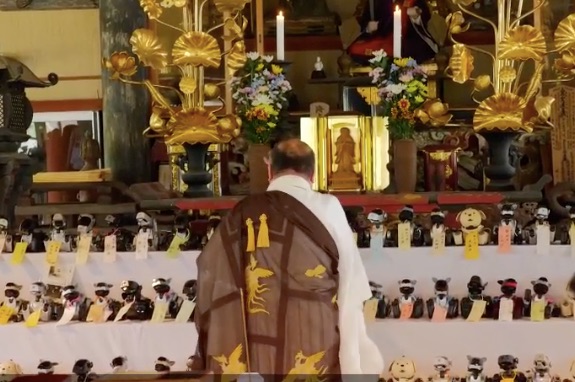 When Sony announced in 2014 that support was ending for Aibo, their pioneering line of robotic dogs, former Sony employee Nobuyuki Norimatsu launched A-Fun, a repair service in Japan, to take care of any ailing Aibos. Things progressed from there. Video below. From National Geographic:


Norimatsu came to regard the broken AIBOs his company received as "organ donors." Out of respect for the owners' emotional connection to the "deceased" devices, Norimatsu and his colleagues decided to hold funerals.



A-Fun approached Bungen Oi, head priest of Kofuku-ji, a Buddhist temple in Chiba Prefecture's city of Isumi. Oi agreed to take on the duty of honoring the sacrifice of donor AIBOs before their disassembly. In 2015, the centuries-old temple held its first robot funeral for 17 decommissioned AIBOs. Just as with the repairs, demand for funeral ceremonies quickly grew...



According to Head Priest Oi, honoring inanimate objects is consistent with Buddhist thought. Nippon.com quotes the priest: "Even though AIBO is a machine and doesn't have feelings, it acts as a mirror for human emotions."
http://feeds.boingboing.net/~r/boingboing/iBag/~3/0s-q1BgNyws/buddhist-funeral-service-for-r.html

rss_rss_boingboing
Четверг, 24 Мая 2018 г. 19:51 (ссылка)

This is "Stickman," a robot acrobat that Disney Research scientists presented at this week's IEEE International Conference on Robotics and Automation. From the abstract of their technical paper:

Human performers have developed impressive acrobatic techniques over thousands of years of practicing the gymnastic arts. At the same time, robots have started to become more mobile and autonomous and can begin to imitate these stunts in dramatic and informative ways. We present a simple two degree of freedom robot that uses a gravity-driven pendulum launch and produces a variety of somersaulting stunts. The robot uses an IMU and a laser range-finder to estimate its state mid-flight and actuates to change its motion both on and off the pendulum.


"Stickman: Towards a Human Scale Acrobatic Robot"
http://feeds.boingboing.net/~r/boingboing/iBag/~3/dKMiDjJzdno/check-out-disneys-robot-acro.html