rss_rss_boingboing
Четверг, 21 Июня 2018 г. 23:46 (ссылка)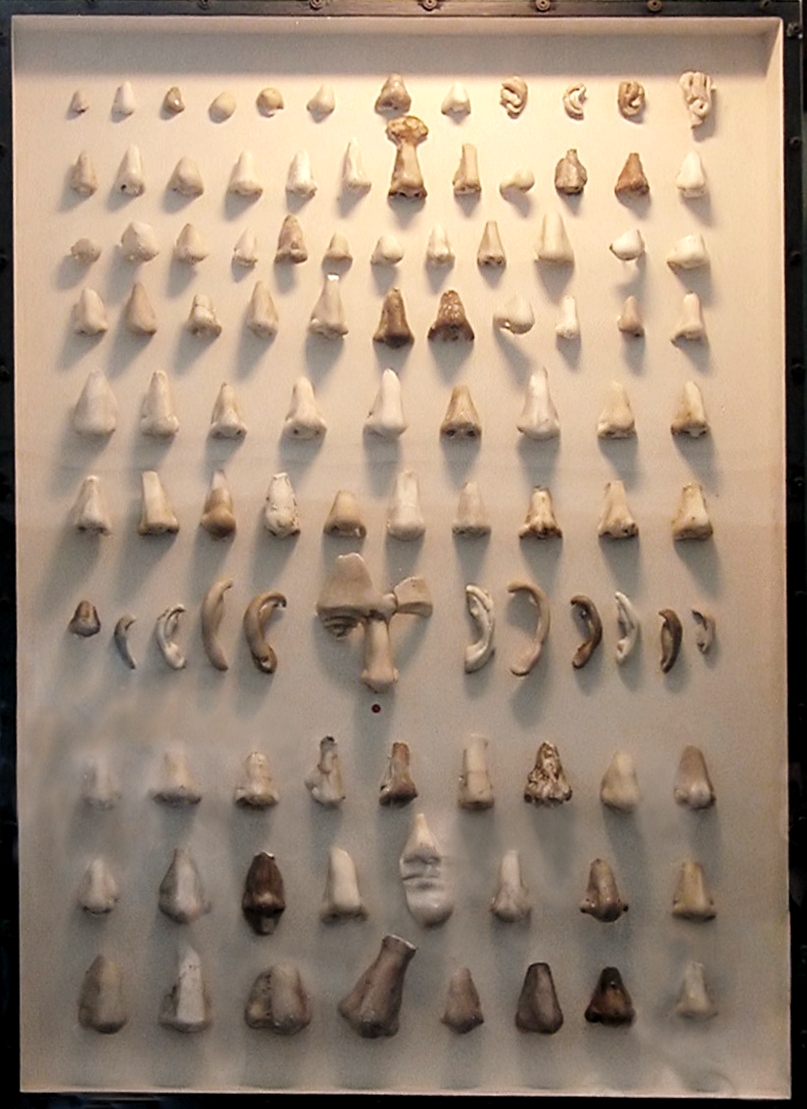 On display in Copenhagen, Denmark's Ny Carlsberg Glyptotek art museum is this glass display case filled with noses of myriad shapes and sizes. Why?


According to curator Anne Marie Nielsen, noses on 19th century statues are notoriously fragile and would frequently break off. So the owners of the statues (or perhaps even prior museum curators) would replace them with marble or plaster replicas. Nowadays though, the museum removes any replacement noses because they only want to display the original sculptures, faults and all.

"About 20 years ago, the museum had a box filled with noses [in our archives], and we weren't sure what to do with them," Nielsen tells Smithsonian.com. "We decided to group them together and put them [on display]."
http://feeds.boingboing.net/~r/boingboing/iBag/~3/6BsnEApCIo8/a-cabinet-of-noses.html

rss_rss_boingboing
Понедельник, 18 Июня 2018 г. 22:15 (ссылка)

A 5-year-old boy knocked over a sculpture at the Tomahawk Ridge Community Center in Overland Park, Kansas. A few days later, Overland Park's insurance company hit the boy's parents with a $132,000 bill. From ABC News:



City officials say the piece was not "permanently attached" but it was secured to the pedestal with clips and that it was "a not an interactive piece."



"We've had other pieces there [and] we've not had problems," said city spokesman Sean Reilly. "We've not had this situation… we've not had kids climb on our pieces."



But (the child's mom Sarah) Goodman argued the sculpture should have been better secured. She also disputes the city's claim that her child wasn't being supervised. Goodman said she and her husband were out of frame of the surveillance camera, saying their goodbyes during a wedding reception that they were leaving, when the incident occurred.
http://feeds.boingboing.net/~r/boingboing/iBag/~3/D8VYX6r_AJ0/child-hit-with-132000-bill-f.html

rss_rss_boingboing
Понедельник, 04 Июня 2018 г. 21:02 (ссылка)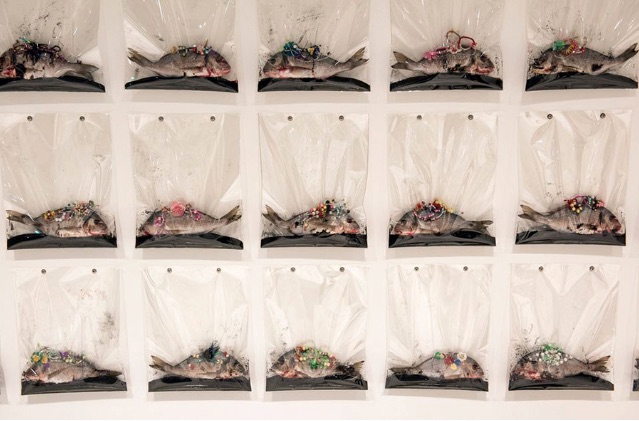 In 1997, South Korean artist Lee Bul's "Majestic Splendor," an installation of bedazzled rotting fish, was removed from New York's MoMA because the stink was too much for visitors. To prevent the odor problem from interfering with Bul's new retrospective at London's Hayward Gallery, he put the fish in potassium permanganate. Of course, potassium permanganate is frequently used as a firestarter and can easily lead to a blaze when combined with tiny amounts of other common chemicals. From Frieze:




On receiving advice, the gallery decided to withdraw the artwork, but it spontaneously combusted mid-removal.



'Following expert advice regarding the materials used in Lee Bul's Majestic Splendor we took the decision, along with the artist, to remove the artwork from the exhibition. During the de-installation, a small fire broke out and the fire service attended,' a spokesperson for the Hayward told frieze.
http://feeds.boingboing.net/~r/boingboing/iBag/~3/-nO8W6B5vfg/art-opening-delayed-after-rott.html

rss_rss_boingboing
Понедельник, 21 Мая 2018 г. 21:39 (ссылка)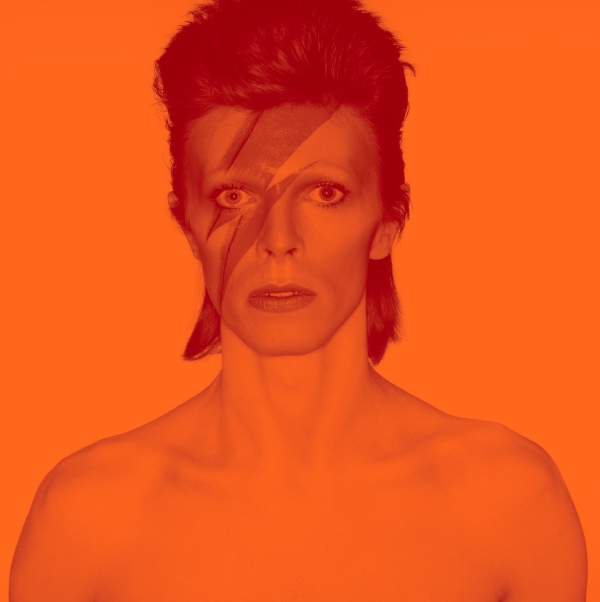 My favorite culture critic, the inimitable Mark Dery, visited the "David Bowie is" exhibition at the Brooklyn Museum. Author of the excellent "All the Young Dudes: Why Glam Rock Matters," Dery sees the exhibit as "a burial chamber for a rock god, replete with everything he'll need for the afterlife." From the Brooklyn Rail:




Crepuscule with Bowie, I thought, not quite groping my way through the perpetual twilight of David Bowie is at the Brooklyn Museum. The 400 artifacts in this blockbuster show—costumes (stage and offstage, because when wasn't Bowie onstage?), handwritten lyrics, record-cover art, stage-set designs and maquettes, personal effects (including, fabulously, the Great Man's coke spoon from the dissolute mid-seventies)—are displayed in vitrines or mounted on stagelike platforms and spotlit. The encroaching shadows give the exhibition a sepulchral feel. Taking it all in, I had an inkling of what Howard Carter must've felt as he got his first look, by flickering candlelight, at Tutankhamun's tomb...
"
Ziggy's Reliquaries
"
(Brooklyn Rail)
http://feeds.boingboing.net/~r/boingboing/iBag/~3/2zGu01zxBfk/mark-dery-visits-the-david-b.html

rss_rss_boingboing
Среда, 09 Мая 2018 г. 22:18 (ссылка)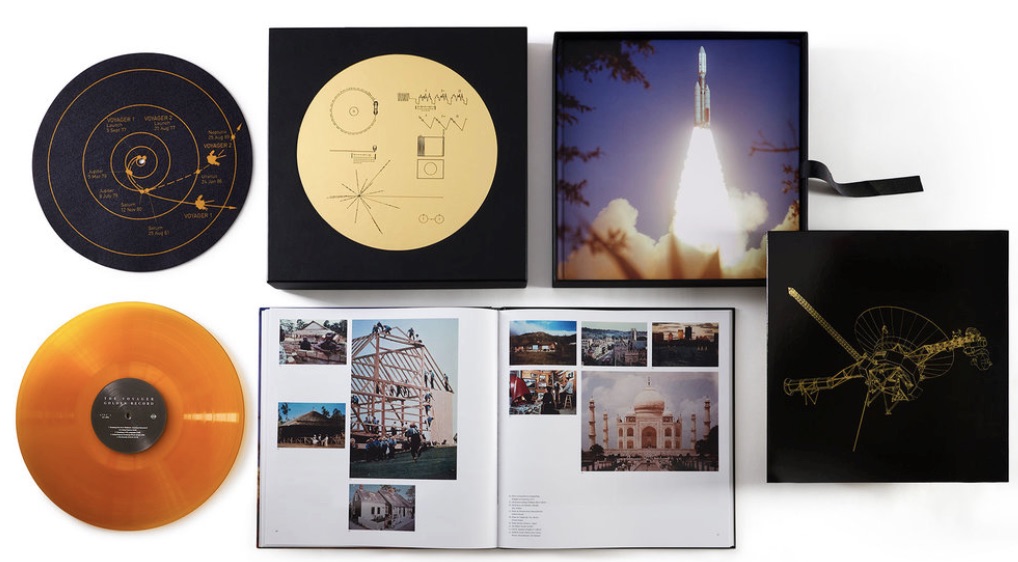 This weekend is the opening of "The Future Starts Here," a new exhibition at London's Victoria & Albert Museum of art and design. Celebrating "100 projects shaping the world of tomorrow," the exhibit features several objects that began as Kickstarter projects, including the "Voyager Golden Record: 40th Anniversary Edition" the Grammy-winning 3xLP vinyl box set that I co-produced with my friends Timothy Daly and Lawrence Azerrad. Our project was the first vinyl release of the iconic phonograph record launched into space by NASA in 1977 as a message for extraterrestrials, perhaps billions of years from now.


The Voyager Golden Record is an artifact for the future. As Tim Ferris, who produced the original Voyager Record, wrote in our liner notes, the Voyagers are on a journey not just through space but also through time. The Voyager Record is a time capsule but it is also timeless. It sparks the imagination. It provokes us to think about the future and our civilization's place in it. It exudes a sense of hope for a better tomorrow. And it lies at the intersection of science, art, and design to spark the imagination.

When Lawrence first began designing our "Voyager Golden Record: 40th Anniversary Edition," he said: "The original Voyager Golden Record is the ultimate album package. I want to design the ultimate album package of the ultimate album package."


We're deeply honored to be included in the exhibit! I'm also thrilled that my Institute for the Future colleague Sam Woolley's provocative "Political Bots" exhibit is also part of The Future Starts Here, which runs at the V&A Museum until November 4.


The Voyager Golden Record 3xLP Vinyl Box Set and 2xCD-Book edition is now available from Ozma Records.
http://feeds.boingboing.net/~r/boingboing/iBag/~3/lTUY4wvgjzY/voyager-golden-record-feat.html