Santi Moix, Fishing Day (Huck & Tom), 2011. Watercolor and collage on paper, 48 x 60 3/4" inches, 121.9 x 154.3 cm. Photo: Courtesy Paul Kasmin Gallery.
NEW YORK, N.Y.- Three years after tackling themes and images from the quintessential work of Spanish satirical-heroism, Cervantes' Don Quixote, Santi Moix animates the ultimate allegory of American cultural-heroism, Mark Twain's Adventures of Huckleberry Finn. Moix's series of watercolors, collages, and wall-drawings transcribe the optimism, color, and vernacular panache of Twain's characters and prose. They also represent a witty confrontation between the artist and his adopted land; the works on exhibit are the quasi-autobiographical "Adventures" of Santi Moix.

Just as Twain described antebellum Mississippi while writing from his home on the Connecticut coast, Moix uses his outsider status to gain perspective on America's traditions and cultural history. Twain had to return to the Mississippi many years after he began composing "Adventures" in order to be able to conclude it. Similarly, Santi engaged with this archetypically American work after returning to New York from a few years' hiatus in Barcelona.

Much as the Mississippi is Twain's La Mancha, the book's river is also a deeply-felt symbol for Moix's life and art—a flow of fissile and mutable identities, personal and national; an agent of tension between a fluvial nomadic life and the fixity of civilization. Through Huck and his "Adventures," Santi Moix illustrates the insight central to all great artists and writers: that art is ever-young and never docile.
Santi Moix collaboration with the production and installation of mural in Barcelona.
print it! has developed a new application that lets the tail removable adhesive with the tissue. In this case, we have special tissue-adhesive used by Santi Moix for his original works and we have applied on the walls of a popular restaurant in Barcelona.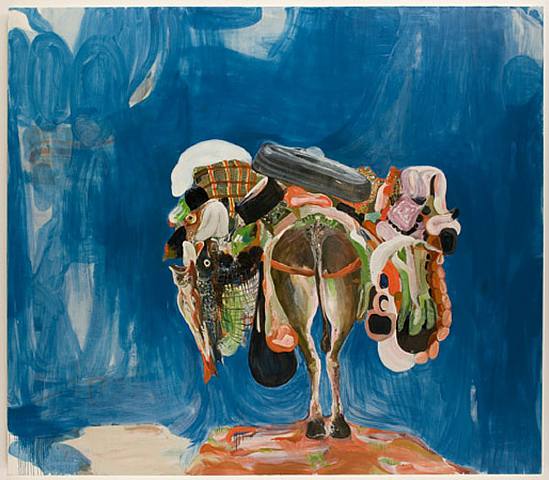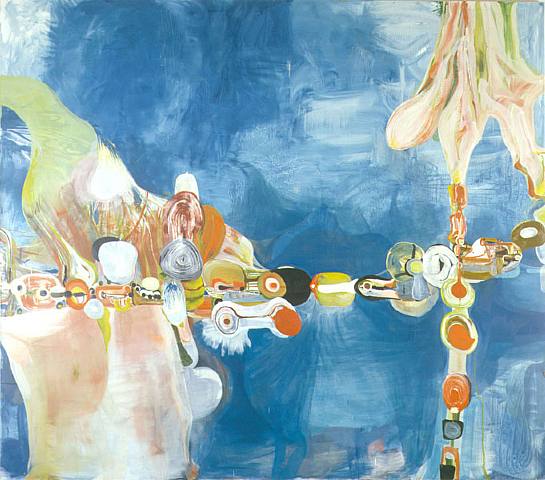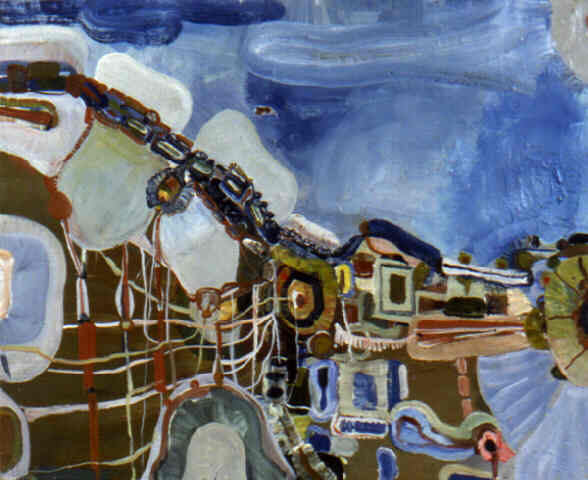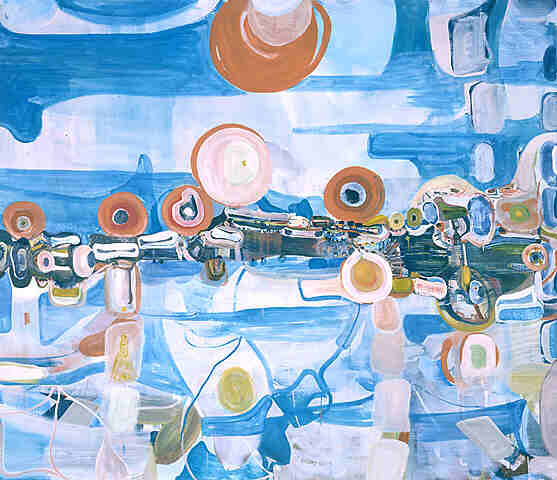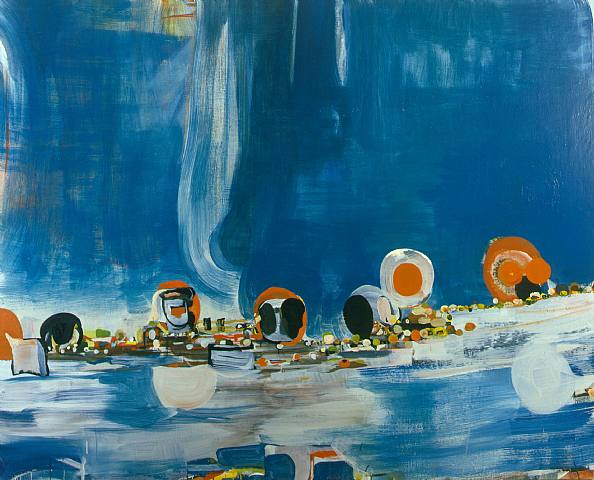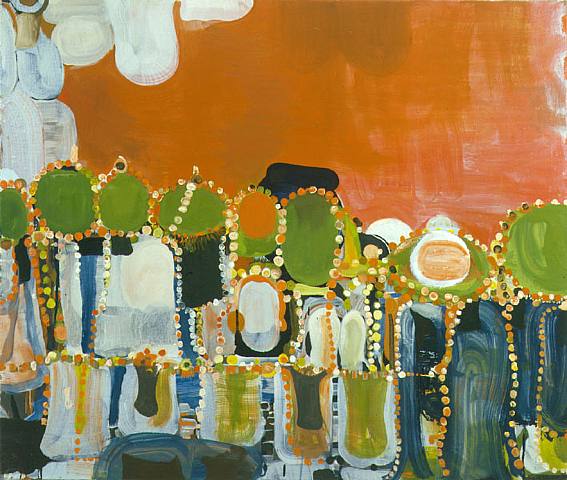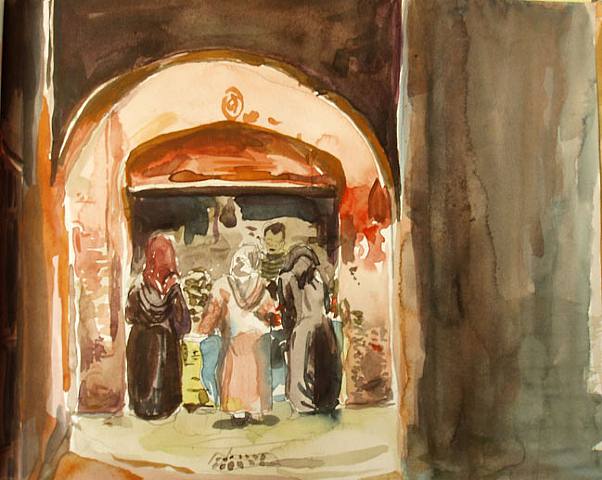 óleo sobre tabla entelada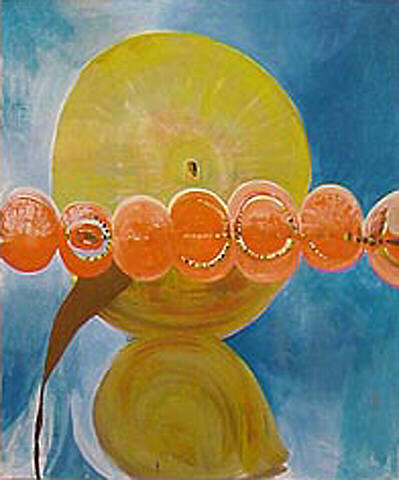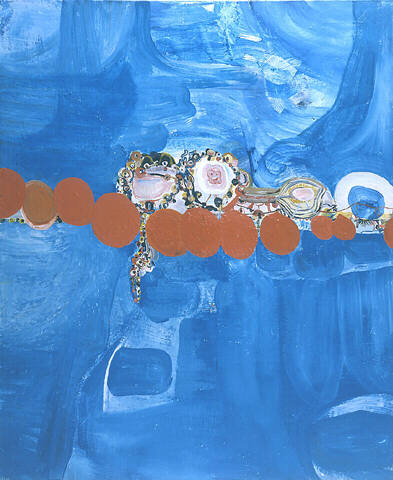 From Article:
Fledgling authors are often taught that perfectionism–not error–is the enemy of great writing; only through fearless means can they arrive at a noteworthy final draft. Transpose this concept to painting, and it's clear why many artists find inspiration in Santi Moix. He's one of those rare people in mid-career for whom risk–along with an intense love of process–is the better part of rigor.
Nowhere was this clearer than in the whopping 54 canvases included in Moix's solo show. Most bore the artist's signature formal elements: cerulean blue skies, clay-toned masses of land and an autographic, often amusing, array of biomorphic forms. True, Moix has worked within this vocabulary for a decade. Yet he restlessly searches for surprising ways to make every element–be it airy void or solid mass–feel freshly carved out, though in paint.
Moix delights in subverting our expectations of just where the weight should lie in a given composition. In The Medical Student (2004), for instance, he gives us a blue and white sky that, though light in hue, heavily descends from the top of the canvas in thick, ribbonlike swaths. Below, an essentially hollowed out orange and green earth plays as a foil, built up of a nervous network of thin horizontal and vertical bands (viewed as if in cut-away). We can never get too comfortable in this topsy-turvy construct: enter, stage right, a silhouetted figure on horseback, as tiny as a scholar in a Chinese landscape. Even as he boldly pierces that seemingly impenetrable sky, he looks ill-prepared for the precarious terrain on which he rests. (read more)
Santi Moix
Based in New York since 1986, Santi Moix (Barcelona, 1960) has spent half his life travelling the world. His long stays in Japan, Italy or even Morocco, where he creates his astonishing rubber sculptures, have made him a keen observer of the human condition, observations that Moix translates into his own unique language, creating the disturbing and enigmatic images that have become his signature style. Navigating with remarkable ease between abstraction and figuration, Moix uses traditional techniques such as oil on canvas or pigments and charcoal on paper as well as unusual materials, such as recycled truck tyres or even wicker, as in his most recent work.
With a long record of international exhibitions, Santi Moix has exhibited since the mid 1980s in galleries and museums in four continents. Recipient of the prestigious Guggenheim Fellowship Award in 2002, he has completed such projects as the series of prints commissioned by the Pace Gallery in New York on Don Quixote in Catalonia, or the singular ceramic scultpures created with the ceramist Joan Raventós that were recently exhibited at the Barcelona Ceramics Museum. His admirable capacity to work with the most diverse materials has made memorable each exhibition by Santi Moix, etching it forever in the memory of the viewer.
http://www.dunev.com/artists/moix/moix.html
Santi Moix at the Paul Kasmin Gallery
http://www.escapeintolife.com/artist-watch/santi-moix/