В колонках играет - Jimmy Needham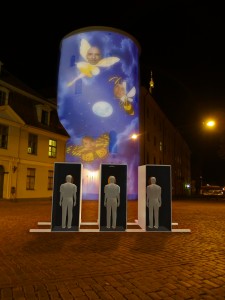 Настроение сейчас - butterfly
It is an amazing OPEN AIR event that is completely free. It' like a museum where all the exhibits are made from lights. You may ask:
For how many years has this festival taken place?
"Staro Rīga" is being mounted for the third year in a row. The festival of light coincides with Latvia's Independence Day celebration.
When does the festival take place?
The festival of light "Staro Rīga" takes place from the 18th to the 21st of November; all of the light sculptures are on view between 6:00 pm and 11:00 pm.
How much do tickets cost?
Admission to all events is free!
How much electricity is used during the festival – and who pays for it?
The total amount can't be calculated until the festival ends, but the most economical lighting possible is used in all cases.
Which activities at the festival would be appropriate for children?
All of the light sculptures are perfect for kids; nothing is off limits to people of any age!
To the Staro Riga I went with my friend Slavic Coolinoc. We met by Origo Watch and went on a trip. Later Artjom, Ilona and Anja joined us.
That was interesting, but I think that this year Staro Riga wasn't as good as last year. I remember only one Installation( exzibit) : I took this from
www.staroriga.lv
An interactive video art performance in which the Festival attendees become the main heroes of the story or dream.
Visions of dreams are projected on the Riga Castle tower. The faces of Festival spectators are "placed" in these visions, allowing anyone to momentarily float away in a dream – obtain a new body, take off like a bird in the sky, view the ocean depths, etc.
This project is based on interaction – between the video artist and Festival attendees, whose faces are filmed and projected on the castle tower. Spectators have the chance to grant the projection a unique feeling and atmosphere with their emotions and facial expressions. With the help of technology, people are transported to a fantastic dream world that they themselves enliven. Anyone can simultaneously be the creator of the interactive projection as well as its observer.