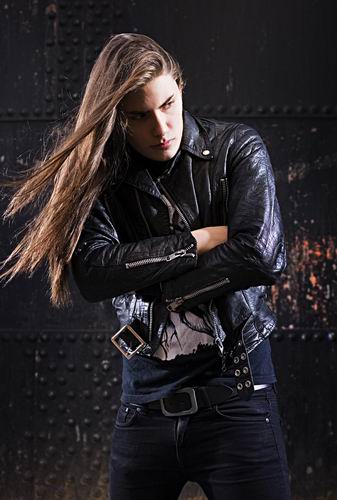 Name: André Linman
Instrument: Guitars, vocals
Gear: ESP guitars, Mesa Boogie amps, Voodoo Lab Electronics, Yamaha Motorcycles
Date of birth: February 28th
Character: Leader character in the band. Positive for the most of the time, talks a lot, humorous.
Worst habit: Very thoughtful, always arrives late
Bands: Sonata Arctica, Judas Priest, Children of Bodom, The Darkness, Altaria, In Flames
Musicians: Glenn Tipton, KK Downing, Alexi Laiho, Dave Murray, Justin Hawkins, Rob Halford, Taage Laiho, Tony Kakko, Jari Mäenpää
Musical inspiration: Judas Priest, other 80´s heavy, Sonata Arctica
First album ever bought: I donТt rememberЕ
First gig ever seen: My dadТs gig!
Drink: Soft drinks
Dish: Some Italian food
Movies: Lord of the Rings, Merlin, other fantasy / medieval movies
TV: The Simpsons
Hobbies: Playing music and writing songs!
Admires: People who dare to stand out in the mass
Likes: Music, cats, nature, nice people, summer
Hates: People who arenТt nice, tests in school, stress, war, destruction, injustice
Philosophy of life: ItТs cool!
Future: I hope that people will like our music and that we will go far!